The Czech Republic as a country in the heart of Europe has always been an attractive destination for starting a business for many foreigners. The country is a member of the European Union, offers favourable and safe business environment, skilled workforce, stable legal system, a very high level of general safety for living, good quality of life and strategic location. Its stable economy and developed infrastructure allow investors to peacefully conduct their business. For UK companies seeking to expand their horizons, the Czech Republic offers a promising landscape. Due to its location, it can be considered a gateway to a vast EU market of 440 million consumers.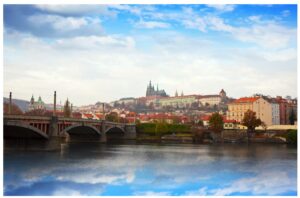 Staying in the Czech Republic while establishing a business involves considerations based on EU citizenship (can stay without a visa but may apply for a Certificate of Temporary Residence for over 3 months) or being from a third country (including UK citizens) require a visa for 90+ days, followed by a long-term residence permit. Business forms include self-employment (trade license), General Commercial Partnership (rare), Limited Partnership (limited and general partners), Limited Liability Company (shareholder liability limited to unpaid contributions), and Joint Stock Company (complex, high capital requirement). Registered Branch of a Foreign Company offers a simplified option, though it doesn't have separate legal status. After business establishment, tax registration (corporate income tax 19%, rising to 21% in 2024), bank account opening, and legal preparations for a successful running of the new business are necessary.
There is also the possibility to apply for and get government incentives for technology centres, business support service centres, production of strategic products and manufacturing industry and grants available for new businesses.
Government incentives are provided under the Act on Investment Incentives, and consist of:
–       income tax relief for up to ten years for a new company established for an investment project and partial tax relief for up to ten years for an existing company which will be expanding an investment project;
–       cash grant for up to 20% of capital investment in certain strategic projects;
–       employment subsidies in the form of grants for job creation and training with respect to technology centres (available only in regions with high unemployment rates).
The Czech Republic's real estate market offers a compelling blend of economic stability, growth potential, and favourable regulations for international investors. In 2020 and 2021, real estate prices have increased extremely. … Over the last year, the price of apartments fell by 8.4%, therefore it is good time to invest.
Mgr. Eliska Valickova
co-founder of  ME:LEGAL s.r.o., advokatni kancelar – law firm based in Czech Republic
ME:LEGAL is helping its clients with all their day-to-day business needs and offers them client-oriented legal services. The team is experienced in various fields of practice and is therefore able to provide its clients not only with the establishment of their business but also with the further growth of their business and their needs. The expertise includes business law (together with contractual law, corporate law and employment law), real estate law and providing legal support to hotels and restaurants.
(photo source: bearfotos/Freepik)