VouchedFor is a review site with thousands of genuine reviews. All reviews are written by clients of solicitors, financial advisers, mortgage advisers and accountants.
You can search reliable advisers and read over 110000 reviews. All reviewers are identified, and the site never removes or edits reviews – unless potentially fraudulent (or abusive) activity is detected during monitoring. VouchedFor asks the professionals to verify each reviewer is a real client.
Every adviser is authorised by their governing body and the site admins check details such as qualifications and fees. Visit VouchedFor.co.uk. All solicitors are checked against the Solicitors Regulation Authority (SRA), the Law Society of Northern Ireland or the Law Society of Scotland.
The extensive check i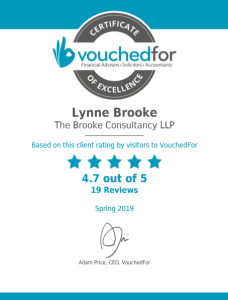 s based on stringent criteria.
In enabling the public to view professionals and their performance leads to the improvement of the overall standard. Genuine client reviews are more important than professionals trying to impress prospective clients with trendy offices. High standard of service and lower (overhead) cost – is one of the trends solicitors started to embrace.
Reviews are powerful stories of success and satisfaction where specific needs of businesses and individual professionals were met timely, to a high standard, thus creating a win-win for everyone involved.
Lynne Brooke belongs to UK's best professionals. The Times included his name and areas of excellence in their guide of top solicitors.