Listening to Chopin, Beethoven and Mozart - music touches us emotionally. Words fail to express what music can. It lets us feel less pain and distress. Music even has the ability to heal.
Last Thursday (June 23rd) even the unpleasant weather couldn't discourage people from attending the Hearts in Harmony (HIH) charity event in St. John's Smith Square. At the beginning of the event, Shan Liew, the HIH founder, explained how important music and charity work are in her life, so she decided to combine both. While the Orpheus Sinfonia was playing, people in the audience were encouraged to donate to the Great Ormond Street Hospital (also known as: GOSH).
GOSH provides care to hundreds of sick children and supports families every day, since 1852. By attending the charity event and donating, people enable the Great Ormond Street Hospital to fund a brand new defibrillator.
The Brooke Consultancy was and is grateful to have had the opportunity to attend and support Shan Liew in her noble efforts.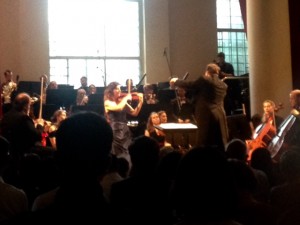 For more information about upcoming charity events that combine a good cause with the love for the arts - please visit Heartsinharmony.co.uk.