Hiring an expert may be your best investment. Make sure you read the Guide published by The Sunday Times via VouchedFor. Since solicitors specialise in particular areas - look for one who has been reviewed by others with a similar issue to yours.
Lynne Brooke received many positive reviews in the following areas: Immigration, Employment, Disputes, Business, Intellectual Property and Finance.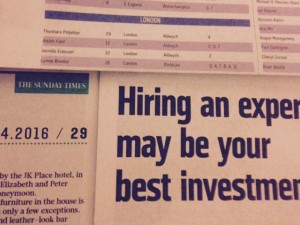 All top solicitors have received the highest volume of positive client reviews in the past two years on the platform VouchedFor which is a rating site for financial and legal professionals.
VouchedFor lists over 10,000 professionals, and over 40,000 clients have reviewed their own professionals and shared their opinion of financial and legal help they received.
Lists of the 250 professionals with the most positive reviews in each of VouchedFor's four categories (Financial Advisers, Mortgage Advisers, Solicitors and Accountants) were published in the newspaper The Sunday Times on 10th April 2016.
Lynne Brooke belongs to the country's best professionals as chosen by his clients.
Congratulations Lynne and many thanks to all who contributed with a positive review.
Sources: The Brooke Consultancy, VouchedFor.co.uk, thesundaytimes.co.uk
Photo source: The Sunday Times